A/C
alloys
Automatic
Cruise control
Diesel
electric windows front & rear
Flexi -seating
long wheel base
Privacy glass
Rear parking sensors
Winch
---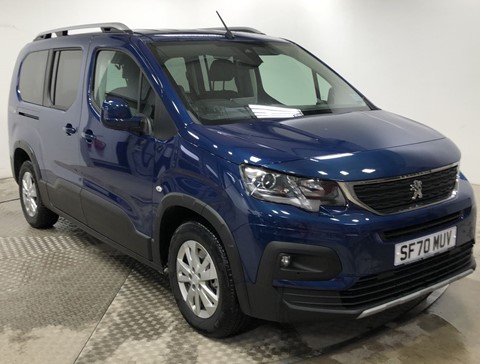 Request a Callback Today!
Interested in the Nearly New WAV Peugeot Rifter 1.5D 130Alu RE LWB Automatic Flexi seating?
This is a nearly new Peugeot Rifter automatic LWB  in metallic blue with a flexi seating conversion. This can be used as a 5 seater car or a 3 seater car plus wheelchair position.
It has a wheelchair winch to assist with loading a wheelchair user. This vehicle could be used for transporting a person in a wheelchair or transporting a mobility scooter.
Available for just £895 on the Motability nearly new scheme.
https://offers.peugeot.co.uk/choose-your-peugeot/configure-rifter/allure
Ask about Express delivery.
Click and Collect available during  lockdown.
Call Matt Hawkins  tel 01978 313355
Vehicle Details
Registration Date: 20/10/2020
Engine: 1.5 diesel
Gears: Automatic
Mileage: 750
Seats: 5 seats or 3 seats plus W/C
Internal Head Height: 146cm
Access: Lowered floor ramp & winch